What is Stagger?

STAGGER is a multi-effect audio plugin and step sequencer hybrid that is packed with over 50 effects and effect combinations. You can use these filters and effects individually, or as building blocks, to be sequenced and layered into a total of 16 patterns. Each step can be assigned to any 1 of 5 effect processors, which can then be routed and/or combined with both parallel and series routing paths. A side from combining and sequencing the effects, each processor has it's own dedicated LFO and Envelope for modulation control.


* The internal step sequencer for step sequencing filters and effects
Natural Sounding Envelopes

* Segmented Bezier Curving Available In Each Envelope
The fore-mentioned Envelopes each contain, instead of your traditional ADSR controls, segmented bezier curving to produce a more natural sounding type of modulation than your traditional capacitor charging characteristics and/or linear gain curves. The resulting control voltage can then be attached (routed) to any of the associated effect processor's parameters. (Gain, Pan, LFO Freq, Etcetera...)
Powerful LFO Controls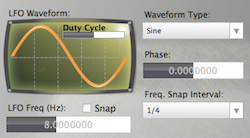 * Stagger LFO Controls

Next, the LFO controls, on the other hand, come packed with custom waveforms on top of your existing LFO waveform types. With the GUI, you can control each of the LFO' rate, phase, duty cycle and as well as special kind of depth control, included with filters, that is biased in design to accommodate the type of filter it pertains to. For example, an LFO depth control for one of the low pass filters will be labelled as "Fmin" and will allow you to configure a percentage between the cutoff and the minimum frequency configured for that filter. On the other hand, an LFO depth control for the high pass filters will contain a control labelled "Fmax". Finally, each LFO can be configured to be either free running or reset on every entry step in respect to the step sequencer.
Over 50 Filters and Effects built from The Ground Up!
The Filters are based on analog prototypes which have been either bi-linearally transformed, or modelled into the digital domain. These filters include bi-quadrature LP/HP/BP/P/N filters in both 2nd and 4th order and are derived from your standard Sallen-key prototype designs or state variable configurations. All of the Filters and Effects have been developed using C++ with SSE2 optimizations.
In addition to the standard filters, also included is a formant filter, some RF modulators (AM/AM-SSB/AM-DSB/FM/PM/Ring), modulatable delay lines, wave shaping functions and a collection of effects built on combinations of all of these things. You can watch video demonstrations of Stagger at:
https://www.kvraudio.com/product/stagger-by-audio-poison/videos
Watch A Demonstration Video (Basic Layering...)
Stagger Features
Stagger contains over 50 filters and effects built on a propriety DSP library that has been built from the ground up. You can use any of these filters and effects individually or combine them like as building blocks by layering them together in combination, with a total of 4 layers, any way you see fit.
A Total of 5 Effect Kernels

Includes 5 individual LFOs & Envelopes


* Stagger's Envelope Shaping Utilizes Bezier Curving For More Naturally Sounding Sweeps!

60 Filters and Effects to Choose From and/or Combine

Filters All Have Multiple Design Types and Orders
Low Pass, High Pass, Band Pass, Notch and Formant Filter Type(s)
Includes FM, PM, AM, AM-DSB and AM-SSB Modulators and Several Unique Distortion Algorithms!
Various Filter/Modulator and Filter/Distortion Combination(s)
Intelligent Routing (Parallel, Groupable Series A => D)

Automatic Mixing w/ Perceptual Weighting (to prevent layer attenuation)

Step Sequencer Designed With Usability in Mind

Multiple Speeds
Copy / Paste Functionality
Support For 16 Patterns Each With 4 Layers

Also Included: Tremelo, Vibrato, Stereo Pan, Sample Delay, etc.
Driven Completely by the Audio Poison DSP Engine
What Formats Are Supported By Stagger?
Right now Stagger has been developed with support for:
Windows: VST
* Both 32-bit and 64-bit support.
Mac OS X: Audio Unit, VST
* Both 32-bit and 64-bit support, Intel Only
* RTAS and AAX support, as well as TDM versions will be released shortly due to several minor set backs we have been experiencing these past few month(s).
Officially supported Digital Audio Workstations include AVID Pro Tools, Ableton Live, Cakewalk SONAR, Logic Pro, FL Studio and Steinberg Cubase.
NOTE: All though Stagger should work with any non-listed DAW that support any of the listed format(s): if you experience problems, please post your setup information on either our forum or the support system which can be found in our navigation menu and we will get it working for you as soon as humanly possible!